The Ovarian Cancer Alliance of Ohio (OCAO) is an advocate for those affected by ovarian cancer
Our mission is to promote early detection of ovarian cancer with advocacy, education, awareness, and public outreach to improve outcomes and help save lives. We also work to support women who have been diagnosed with ovarian cancer as well as their family members.
Game for Good at Kingmakers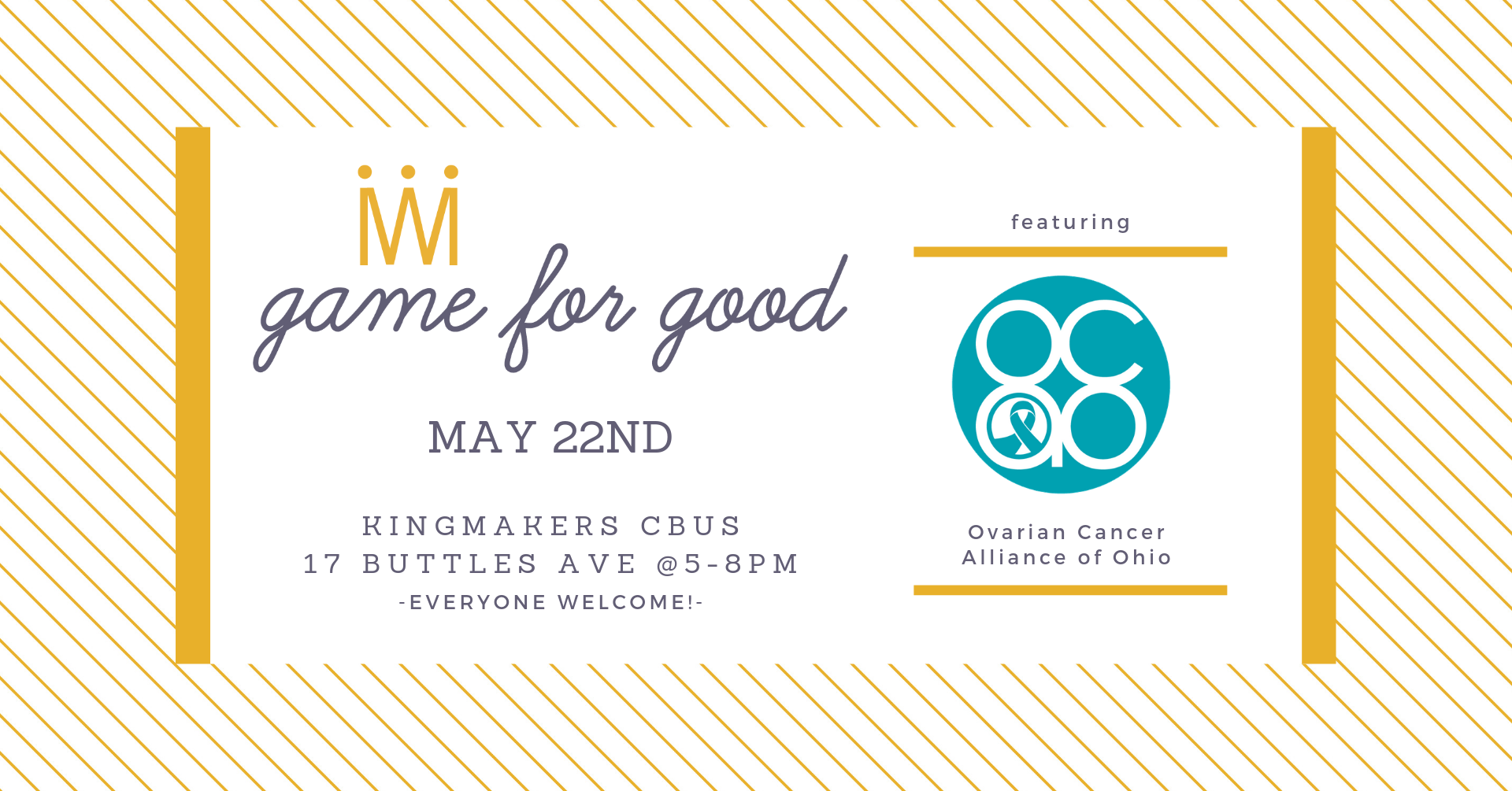 Game for Good is a Wednesday evening event series hosted by Kingmakers in collaboration with local non-profits. This is a great opportunity to combine a fun and meaningful gathering with a unique way to raise awareness and funds for a cause!
• Register via Eventbrite before you attend and the organization will receive 100% of your Library Fee ($5 per attendee).
• You can register as many attendees as you like. No need to print your registration; Kingmakers will identify you and your guests that evening!
• Make sure to register by end of day May 20th!
• If 20 or more guests attend, the organization will also receive 10% of net sales from the Event.
REMINDERS
+ Kingmakers is all ages!
+ We serve a menu of craft beer, wine and mead on tap, as well as additional alcoholic and non-alcoholic options, and pre-packaged local snacks.
+ We accept card payments. More on How We Play: https://kingmakersfun.com/faq/
+ Parking: https://shortnorth.org/see-experience/parking-transit/
Kingmakers is a social experience designed to introduce the world of board games to people who may not yet know it exists, and keep fueling the interest of those who are familiar with its thrill. Our Library and our Board Game Sommeliers are at the core of the Kingmakers experience.
MORE INFO: https://kingmakersfun.com/
Follow us @kingmakersfun
Our programs are designed to further our mission and provide much needed services for our constituents.
Take a look.

Fundraisers and events help us raise awareness and generate crucial resources to serve our community. Join us at our next event and see how you can get involved.
Find out more.

Improve your community by joining our cause. You'd be surprised at what a huge difference a little bit of your time can make.
Read more.